Story highlights
Bergen says Bush administration did not keep U.S. safe before 9/11
He says Bush, aides paid little attention to the threat posed by bin Laden and al Qaeda
Peter Bergen is CNN's national security analyst, a vice president at New America and a professor of practice at Arizona State University. He is the author of "The Longest War: The Enduring Conflict Between America and al-Qaeda," which this piece draws upon.
(CNN)It's not often that one gets the chance to write the following: Donald Trump is right.
Trump, of course, has been very wrong in the past about important issues such as President Barack Obama's place of birth and Mexican immigrants, but the Republican frontrunner is correct in saying that former Republican President George W. Bush did not keep the country safe during the 9/11 terrorist attacks.
On Monday Trump told Fox News, "The fact is we had the worst attack in the history of our country during his reign. Jeb (Bush) said we were safe during his reign. That wasn't true."
The historical record bears this out.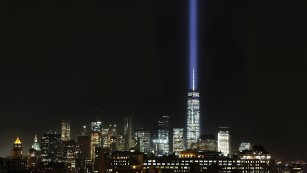 16 photos: 9/11 tributes across the nation