Civilian casualties plummet in drone strikes
By Peter Bergen, CNN National Security Analyst, and Jennifer Rowland, Special to CNN
updated 12:59 PM EDT, Fri July 13, 2012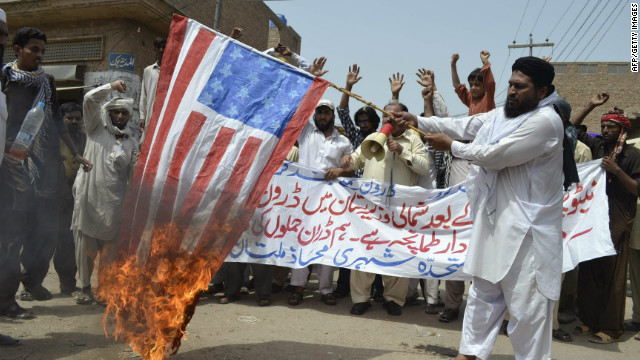 A man burns the U.S. flag in protest of a drone strike in Multan, Pakistan, on July 7.
STORY HIGHLIGHTS
Peter Bergen, Jennifer Rowland: Civilian toll of drone attacks has dropped sharply
They say lower munitions, better targeting, more oversight has enabled more accurate strikes
Civilian casualty rate using conventional warfare would arguably be higher, they say
Authors: Rate of drone attacks has slowed considerably
Editor's note: Peter Bergen, CNN's national security analyst, is a director at the New America Foundation and the author of the new book "Manhunt: The Ten-Year Search for Bin Laden -- From 9/11 to Abbottabad." Jennifer Rowland is a program associate at the New America Foundation, a Washington-based think tank that seeks innovative solutions across the ideological spectrum.
(CNN)
-- Last week, a U.S. drone attack killed 19 suspected Taliban militants at a compound in North Waziristan on the Afghan border, according to Pakistani intelligence officials. Dawn, a leading English-language Pakistani newspaper, later reported that the drone actually launched two separate strikes, the second of which occurred "when tribesmen were still carrying out rescue work," and killed an additional three people. It was unclear whether the three were civilians or militants. If they were civilians, the incident would run counter to a marked decline in reports of civilian deaths in Pakistan caused by CIA drone strikes. The New America Foundation has been collecting
data about the drone attacks
systematically for the past three years from reputable news sources such as the New York Times and Reuters, as well as Pakistani media outlets such as the Express Tribune and Dawn. According to the data generated by averaging the high and low casualty estimates of militant and civilian deaths published in a wide range of those outlets, the estimated civilian death rate in U.S. drone strikes in Pakistan has declined dramatically since 2008, when it was at its peak of almost 50%. Today, for the first time, the estimated civilian death rate is at or close to zero.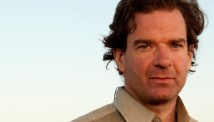 Peter Bergen
Over the life of the drone program in Pakistan, which began with a relatively small number of strikes between 2004 and 2007, the estimated civilian death rate is 16%. And in the Obama administration, between 1,507 and 2,438 people have been killed in drone strikes. Of those, 148 to 309, or between 10% and 12%, were civilians, according to the New America Foundation data. The drop in the number of civilian casualties since 2008 came as a result of several developments, one of which was a directive issued from the White House just days after President Obama took office, to tighten up the way the CIA selected targets and carried out strikes. Specifically, Obama wanted to evaluate and sign off personally on any strike if the agency did not have a "near certainty" that it would result in zero civilian casualties. The CIA began utilizing smaller munitions for
more pinpoint strikes
. And drones can now linger for longer periods of time over targets, ascertaining whether civilians are around the target area, than was the case several years ago. The drone program has also come under increasing congressional oversight in the past couple of years, a
layer of accountability
that one former CIA official said was unheard-of when he left the agency in 2009. Members of the Senate and House intelligence committees now hold monthly meetings at CIA headquarters to watch video recordings of specific drone strikes, as well as to review the intelligence upon which CIA agents on the ground in Pakistan based their target selection. In a letter to the Los Angeles Times in May, the chairwoman of the Senate Intelligence Committee, Sen. Dianne Feinstein, D-California, wrote that "Committee staff has held 28 monthly in-depth oversight meetings to review strike records and question every aspect of the program including legality, effectiveness, precision, foreign policy implications and the care taken to minimize noncombatant casualties." And in 2012, there have been far fewer drone strikes: just 27 as of July 11, compared with 45 during the same period in 2010. All these factors have contributed to the steep decline in civilian deaths in drone strikes in Pakistan. According to a 2010 report by the Campaign for Innocent Victims in Conflict, a Washington-based advocacy group, which was based on field work in Pakistan's tribal areas where all of the drone strikes occur, most residents of the tribal regions believed the strikes
are largely accurate
and primarily killed militants. However, the report said civilian casualties were higher than the U.S. government had claimed. In February, The Associated Press conducted a rare on-the-ground
investigation
of 10 of the deadliest U.S. drone strikes carried out over the previous 18 months. Reporters interviewed about 80 villagers from the areas affected by these 10 strikes and found that of the 194 people reported killed in the attacks, at least 138 -- about 71% -- were identified as militants. The remaining 56 victims were either local tribesmen or police officers: about 29% of the total number, 38 of whom were reportedly killed in a single strike on March 17, 2011. If that single attack is excluded, the civilian casualty rate for the 10 deadliest strikes of 2010 and 2011 was 9%, which is in the range of the New America Foundation estimate of 5% civilian casualties for all of the 141 strikes during that same time period. The London-based Bureau of Investigative Journalism also maintains
a count of drone casualties
in Pakistan. It reports that between three and 24 civilians have been killed in 2012. The Bureau of Investigative Journalism's high estimate of 24 civilian deaths in 2012 came in part from reports provided by an unreliable Pakistani news outlet as well as the claims of a local Taliban commander, which contradicted all other reports. And even if the bureau's estimates of between three to 24 civilian casualties are assumed to be correct, the civilian casualty rate for drone strikes in 2012 would still be between 1% and 10%. That is far below the civilian death rate that the Pakistani government and other private research groups such as Pakistan Body Count have claimed. A report released by Pakistani authorities in 2010 estimated that for every militant killed in a drone strike in 2009, 140 Pakistani civilians also died, and that the civilian casualty rate for that year was more than 90%. And Pakistan Body Count's
ongoing tally
estimates the civilian casualty rate over the life of the drone campaign to be between 75% and 80%. Pakistani security officials acknowledged during background interviews with the Washington Post in mid-2010 that, in fact, better technology, a deeper network of informants on the ground and better coordination between U.S. and Pakistani intelligence officials had all contributed to
a significant drop
in civilian deaths in drone strikes. And Maj. Gen. Ghayur Mahmood, a commander of Pakistani troops in North Waziristan, where the majority of drone attacks take place, last year conceded publicly that "Myths and rumors about U.S. Predator strikes and the casualty figures are many, but it's a reality that many of those killed in these strikes are hardcore elements, a sizeable number of them foreigners." Pakistani officials now rarely base their criticism of U.S. drone strikes on the incidence of civilian casualties and instead point, quite reasonably, to another objection: the U.S. violation of Pakistan's national sovereignty. The Obama administration maintains that international law does not prohibit the use of lethal force against an active enemy "when the country involved consents or is unable or unwilling to take action against the threat." And many U.S. officials have argued that the unprecedented precision of drones makes them by far the most effective weapon for striking a target and for avoiding civilian casualties. Conventional warfare against the Taliban and allied groups such as al Qaeda in Pakistan's northwest would arguably result in far higher civilian death tolls. Amnesty International reported in 2010 that 1,363
civilians died in fighting
(PDF) between insurgents and Pakistani security forces in the tribal regions in 2009, compared with the estimated 103 to 223 civilians who were reported to have been killed in U.S. drone strikes in 2009, according to the data compiled by the New America Foundation. The drone program persists, in part it seems, just because it can. The Pakistanis complain about the drones' infringement of their national sovereignty and yet have never shot down the relatively slow-moving drones with their F-16 fighter jets. Then-CIA Director Leon Panetta said a year ago that the U.S. is "within reach of strategically defeating al Qaeda." That point seems to have come, yet the drone strikes rumble on.