Growing threat of extreme right-wing violence
By Peter Bergen, CNN National Security Analyst, and Jennifer Rowland, Special to CNN
updated 9:02 PM EDT, Thu April 4, 2013
STORY HIGHLIGHTS
Authors: Last five years have seen more indicted in extremist violence
They say the threats have grown from domestic sources, particularly the right wing
Jihadist groups no longer make up the greater threat, they say
Authors: It's about time for politicians to notice the shifting threat
Editor's note: Peter Bergen is CNN's national security analyst, the author of "Manhunt: The Ten-Year Search for bin Laden -- From 9/11 to Abbottabad" and a director at the New America Foundation. Jennifer Rowland is a program associate at the New America Foundation.
(CNN)
-- On the evening of March 19, Tom Clements, the director of Colorado's prison system, was
shot and killed
when he answered the door of his home near Colorado Springs. The slaying sparked a police chase that ended a few days later in Texas, with authorities finally killing the suspect, 28-year-old Evan Ebel, in a shootout. It was soon discovered that Ebel had been part of a
violent white supremacist gang
during the eight years he spent in Colorado prisons.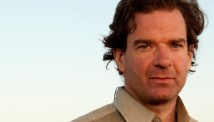 Peter Bergen
Clements was the latest victim of increasingly active violent right-wing extremists. While American politicians and the U.S. public continue to focus on the threat from jihadist extremists, there seems to be too little awareness that this domestic form of political violence is a growing problem at home. From 2002 to 2007, only nine right-wing extremists were indicted for their roles in politically motivated murders and other types of ideologically motivated violent assaults. But between 2008 and 2012, the number mushroomed to 53, according to data collected by the New America Foundation. (Click on chart on the left for the data.)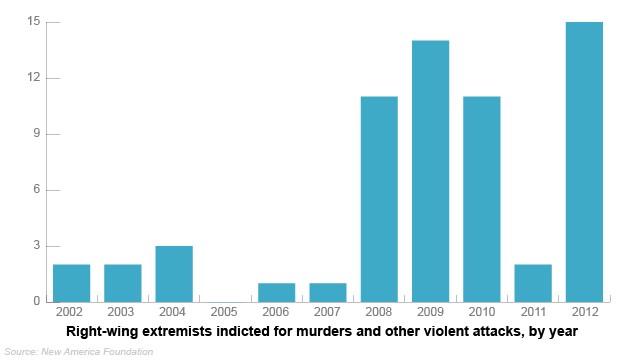 Fifteen right-wing extremists were indicted in 2012 -- including six who were involved in a militia in Georgia that accumulated weapons, plotted attacks on the government and
murdered
a young U.S. Army soldier and his 17-year-old girlfriend, who they suspected were planning to rat out the group to authorities. Seven claimed membership in the
anti-government Sovereign Citizens
movement and allegedly murdered two policemen in Louisiana. And two had gone on a murderous rampage the previous year, killing four people before they were arrested in California, where they told police they were on their "way to Sacramento to kill more Jews." By comparison, in 2012, only six people who subscribed to al Qaeda's ideology were indicted on terrorism-related charges in the United States, confirming the trend of the past four years, which is a sharp decline in such cases that has been documented by the authors in
previous pieces
for CNN.com. It's about time that politicians who are quick to talk about the threat posed by al Qaeda began paying attention to the shifting nature of the threats. In comparing the two sources of domestic terrorism, it's striking that the jihadists charged with crimes were much less likely to have actually carried out a violent attack before they were arrested. According to
data gathered
by the New America Foundation, 207 people motivated by al Qaeda's ideology of violence against American targets have been indicted in the U.S. on terrorism-related charges since 9/11. But only about 5% of those were indicted for their roles in violent incidents, whereas of the 139 right-wing militants indicted in the United States since 9/11, just under half had engaged in a violent attack before they were arrested. The word "terrorism" is not often used in the charges leveled against these right-wing militants, simply because laws in the United States primarily define terrorism as the work of a designated foreign terrorist group. But the New America data shows that domestic terrorists motivated by non-jihadist ideologies now pose a similar or even greater threat than those who admire al Qaeda. We define non-jihadist terrorists to be those who carry out or aspire to carry out acts of politically motivated violence, and who fall into the following categories: right-wing extremists who oppose the government, subscribe to a neo-Nazi ideology, or oppose homosexuality or abortion; left-wing extremists; violent animal rights activists; and violent environmental activists. Over the past several years, acts or plots of non-jihadist terrorism have derived almost entirely from right-wing extremists like the soldiers' militia in Georgia and the anti-government group in Louisiana. Of the 54 non-jihadist terrorists indicted between 2010 and 2012, 47 were right-wing extremists. Seven were leftists or animal rights extremists. For instance, three were participants in Occupy Chicago, a leftist political movement, and were indicted on terrorism charges last June for plotting to throw Molotov cocktails at President Barack Obama and other officials during a NATO summit in Chicago. Their lawyers say an
undercover
government agent had urged them to plot the attacks and build the firebombs. Since 9/11, at least 29 people living in the United States have been killed by right-wing extremists, while 17 have been killed by jihadist extremists, the majority of whom died in one incident: the 2009 massacre at Fort Hood, Texas. Of course, this story would be much different if al Qaeda recruit Umar Farouk AbdulMutallab had detonated a bomb hidden in his underwear aboard Northwest Flight 253 on Christmas Day 2009.
Become a fan of CNNOpinion
Stay up to date on the latest opinion, analysis and conversations through social media. Join us at
Facebook/CNNOpinion
and follow us
@CNNOpinion on Twitter
. We welcome your ideas and comments. But it would also be much different if city workers hadn't spotted a suspicious backpack left on the route of a Martin Luther King Jr. parade in Spokane, Washington, in January 2011, in which white supremacist Kevin Harpham had
hidden a bomb
packed with fishing weights coated in rat poison. Or if police
hadn't discovered
a napalm bomb and several other live, wired explosives in the suburban Cleveland home of right-wing extremist Matthew Fairfield in April 2010. And of all the people indicted on terrorism charges in the United States since 9/11, no jihadist suspect has ever acquired or attempted to acquire chemical, biological or radiological weapons, while at least 11 right- and left-wing terrorists either obtained such materials or made serious attempts to do so. In 2003,
federal agents discovered
"nearly two pounds of a cyanide compound and other chemicals that could create enough poisonous gas to kill everyone inside a space as large as a big-chain bookstore or a small-town civic center" at the home of Judith Bruey and her husband, William Krar, according to an Associated Press report. Alongside the arsenal of chemical weapons were about 60 pipe bombs, several machine guns, remote-controlled bombs disguised as briefcases, and anti-Semitic, anti-black, and anti-government literature, the report said. Although the feds had been tracking Bruey and Krar in the mid-90s, their case fell through the cracks when the events of 9/11 turned law enforcement's attention to jihadist terrorism. The couple was only found out when Krar tried to mail a package of counterfeit birth certificates to an anti-government militia member in New Jersey, but got the address wrong. That mistake resulted in a tip to local police. A
report from the Combating Terrorism Center
at West Point released in January found that, "In the last few years, and especially since 2007, there has been a dramatic rise in the number of attacks and violent plots originating from people and groups who self-identify with the far-right of American politics." In a report that was much criticized at the time, the Department of Homeland Security predicted in 2009 that the nation's election the previous year of its first black president, along with a severe economic downturn that created disenchantment with the government among poorer populations, had the potential to radicalize greater numbers of right-wing terrorists. The same report warned that increasing numbers of returning military veterans as the wars in Iraq and Afghanistan wind down provided those on the far right with a vulnerable population to target for radicalization. The New America Foundation data shows that about 20% of the right-wing extremists indicted since 9/11 had spent time in the military. The New America data supports the Department of Homeland Security's assessment of the growing threat of right-wing extremist groups. American politicians and the public should become more aware of the fact that while the threat from al Qaeda-inspired terrorists is much diminished at home, the threat from right-wing militants continues to rise.
Follow @CNNOpinion on Twitter.
Join us at Facebook/CNNOpinion.
David Sterman assisted with research for this report.