Bergen: Strike reflects ramped up program under Obama, work with Pakistan
Pakistani official: Pakistani Taliban leader Baitullah Mehsud likely killed
Mehsud "has shown up alive after previous near misses," the official said
Mehsud believed to have masterminded assasination of Benazir Bhutto
updated 6:23 a.m. EDT, Fri August 7, 2009
ISLAMABAD, Pakistan (CNN)
-- Pakistani Taliban leader Baitullah Mehsud likely has been killed in a U.S. drone attack, a top Pakistani official said Friday.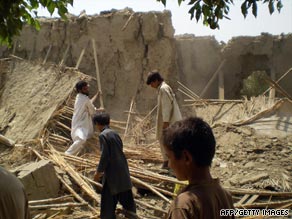 Villagers gather at the rubble of houses belonging to supporters of Pakistani Taliban chief Baitullah Mehsud. "The information I have is that Mehsud has been killed, but we are doing ground verification for 100 percent confirmation," said Shah Mehmood Qureshi, Pakistan's foreign minister. Information from the region suggests Mehsud is dead, Interior Minister Rehman Malik told CNN. He said DNA evidence is still needed for confirmation. The Taliban has yet to confirm or deny reports of the leader's death. A Pakistani official with knowledge of intelligence matters told CNN National Security Analyst Peter Bergen that the strike in Pakistan's South Waziristan tribal area was based on "solid intel." And following the attack, "the Mehsud network has gone quiet as if in shock," the official said. The official cautioned that, "there is a high degree of confidence but certainty only comes after physical evidence and DNA is processed." After all, Mehsud "has shown up alive after previous near misses," he added. Mehsud's second wife was killed early Wednesday in a suspected U.S. drone attack, according to intelligence sources and relatives. The unmanned aerial vehicle targeted the home of Mehsud's father-in-law, Mulvi Ikram ud Din, and dropped two missiles on the residence in northwestern Pakistan, an intelligence official said. Mehsud's second wife was one of two people killed in the strike, according to the sources. Four others were wounded, they said. Muhammad Jamal, a
Taliban
member in the area, told CNN that the attack caused injuries to children and women. The U.S. military routinely offers no comment on reported drone attacks. However, the United States is the only country operating in the region known to have the ability to launch missiles from drones, which are controlled remotely. Mehsud and other key leaders of the Pakistani Taliban have been targeted by the ongoing Pakistani military operation in northwest Pakistan. Hideouts linked to Mehsud are regularly shelled by Pakistani aircraft and suspected U.S. drones. Mehsud's close aide recently confirmed that the Pakistani Taliban chief was behind the assassination of former Pakistani Prime Minister
Benazir Bhutto
, who was gunned down at a political rally in December 2007. Bhutto's widower, Asif Ali Zardari, is the current president of Pakistan. The Pakistani government and CIA officials have said in the past that Mehsud was responsible for Bhutto's death. According to Bergen, the latest drone strike targeting Mehsud is part of two larger patterns. The first is that the Obama administration has ramped up the drone program aimed at militants based inside
Pakistan
beyond the policy it inherited from the Bush administration. A count of drone attacks in Pakistan -- based on reliable media counts and discussions with Pakistani and American officials -- shows 34 such attacks in 2008 that killed at least 10 al Qaeda or Taliban leaders. In 2009, the Obama administration has already authorized 28 strikes. The pace of the drone program has been dramatically scaled up. But the Obama administration's ratcheted-up drone strikes have succeeded in killing mostly lower-level militants and civilians and few "high value targets" such as Abu Sulayman al Jazairi on April 29 and possibly Saad bin Laden, one of the Osama bin Laden's sons who had served as a lower level commander within al Qaeda. Bin Laden's death, however, has not been confirmed. The second pattern is that the Obama administration has increasingly been working with the Pakistani government to attack the Pakistani Taliban. Of the 30 strikes this year, 19 have targeted Mehsud's home base of South Waziristan. Whether or not Mehsud is dead, the strikes have applied pressure on his militant network in Pakistan. Two U.S. officials familiar with the drone program point out that the number of "spies" the Pakistani Taliban have killed has risen dramatically in the past year. That suggests that the militants are turning on themselves to root out possible sources of the often-pinpoint intelligence decimating their ranks. CNN's Samson Desta, Peter Bergen and journalist Janullah Hashimzada contributed to this report.