Ricin: Almost never deadly
By Peter Bergen, CNN National Security Analyst, and Jennifer Rowland, Special to CNN
updated 8:06 AM EDT, Fri April 19, 2013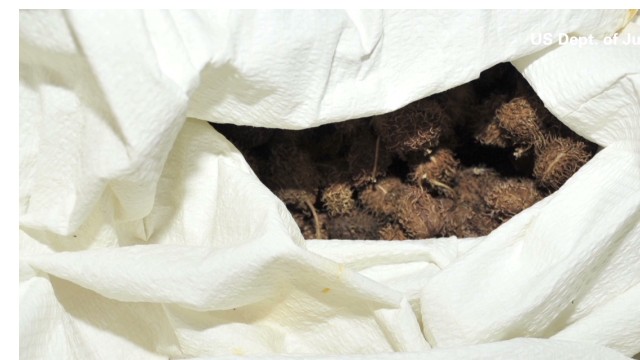 CNN Explains: Ricin
STORY HIGHLIGHTS
Since 9/11 terror attacks, eight have been arrested for attempted ricin attacks
Peter Bergen: Only two people succeeded in producing or obtaining ricin
Ricin needs to be injected or ingested to be deadly, Bergen says
Editor's note: Peter Bergen is CNN's national security analyst, the author of "Manhunt: The Ten-Year Search for bin Laden -- From 9/11 to Abbottabad" and a director at the New America Foundation. Jennifer Rowland is a program associate at the New America Foundation.
(CNN)
-- In the years since the terrorist attacks of 9/11, eight people have been arrested in the United States for attempting to make the deadly poison ricin with the intent of using it for an act of politically motivated violence, according to terrorism data collected by the New America Foundation. But only two of those individuals succeeded in actually producing or otherwise obtaining ricin, and the two ricin-dusted letters sent this week to President Barack Obama and Sen. Roger Wicker, R-Mississippi, bring the total number of attempted ricin attacks in this country since 9/11 to six. Ricin is an attractive poison for terrorists because it can be made from the seeds of the castor oil plant, a readily available crop that is grown to produce castor oil, which is used to repel moles and voles from gardens. Although the castor oil plant is easily accessible, extracting ricin from its seeds is a much more complex process. In 2011, Michael Crooker, a Boston-based right-wing extremist, pleaded guilty to possessing ricin and threatening a government employee. When authorities had searched his apartment seven years earlier, they found ingredients and lab equipment suitable for manufacturing ricin.
Crooker is the only known extremist
to have successfully produced the toxin in the United States since the 9/11 attacks. It is not yet known how Kevin Curtis, who was arrested on Wednesday afternoon on suspicion of sending the
two ricin-laden letters
to Washington officials this week, was able to obtain ricin. An effective, if rarely used, method of assassination, just a milligram of ricin, if injected or ingested, is enough to kill. In 1978, Bulgarian dissident Georgi Markov was walking across London's Waterloo Bridge when he was famously attacked by an assassin wielding a poison-tipped umbrella. The
weapon inserted
a small pellet containing ricin into Markov's leg. He died four days later. Markov appears to be the only person to have been assassinated in a ricin attack in more than three decades. That's because to succeed, such an attack requires ricin to be directly injected, or in some other way be to directly ingested, by the victim. That makes ricin
a poor choice
for a terrorist trying to inflict mass casualties. The six attempted ricin attacks since 9/11 resulted in neither death nor sickness. Most also remain unsolved cases. On October 16, 2003, someone dropped a note off at a mail-sorting office at the Greenville-Spartanburg International Airport in South Carolina. Addressed to the Department of Transportation and attached to a small metal vial, the note read "I'm a fleet owner of a tanker company. I have access to castor pulp. If my demand is dismissed, I am capable of making Ricin." The white powder in the attached vial was soon
confirmed to be
the deadly substance. Weeks later, in early November, a similar letter was discovered at a Washington mail facility that services the White House. Initial tests on an identical vial of white powder were negative for ricin, but subsequent tests at the mail facility found trace amounts of the toxin. Both letters had been signed "Fallen Angel" and demanded that the government not raise the minimum number of hours that truckers must spend at sleeper berths. "Fallen Angel" was never identified, and no personnel at either mail facility were sickened by the poison. Three months after the "Fallen Angel" letters, ricin
was also discovered on a mail-opening machine
at the office of Sen. Bill Frist. Again, no one at the senator's office showed any symptoms of ricin poisoning, but the third attempted attack in a matter of months dredged up uneasy memories on Capitol Hill of the 2001 anthrax attacks, which killed five people and sickened several others.Elvis impersonator arrested in ricin scare Since the February 2004 incident at Frist's office, only Kevin Curtis is alleged to have used ricin in an attack. But at least six other extremists have assembled the materials necessary to produce the toxin. Around midnight on July 8, 2005, Denys Ray Hughes was pulled over in Arizona for traffic violations. In his car, a police officer found coolers full of bomb-making materials and instructions, and Hughes identified himself as a "survivalist/militiaman," according to his criminal complaint. During a search of his home in the ensuing investigation, police found that Hughes had cultivated thousands of castor beans from homegrown castor oil plants. He had piles of
instructional material
on making ricin and other poisons, but his plans for their use remained unknown. And in 2012, four other right-wing extremists were arrested in Georgia for plotting attacks on the government and attempting to manufacture ricin. An FBI informant recorded the men discussing plans to spread the toxin across Atlanta, Washington and several other major American cities. "When it comes time to saving the Constitution, that means some people gotta die,"
an arrest affidavit quoted one suspect as saying
. Also last year, Theodore Shulman, a self-described "pro-choice-terrorist" was arrested and was found to have cyanide and castor beans in his possession.
Shulman had threatened to injure or kidnap
anti-abortion advocates, authorities said. Documents recovered by U.S. troops from al Qaeda safe houses in Afghanistan showed that Osama bin Laden's terrorist group expressed interest in obtaining ricin. But no al Qaeda-affiliated or inspired extremist has been arrested in the United States for attempting to produce it. Indeed, since 9/11, of the 207 indictments of al Qaeda-affiliated or inspired extremists for some kind of terrorist plot in the United States, not one of the cases involved individuals attempting to manufacture or deploy biological, chemical or radiological weapons.
Follow @CNNOpinion on Twitter.
Join us at Facebook/CNNOpinion.