Should we still fear al Qaeda?
By Peter Bergen, CNN National Security Analyst
updated 11:04 AM EST, Sun February 3, 2013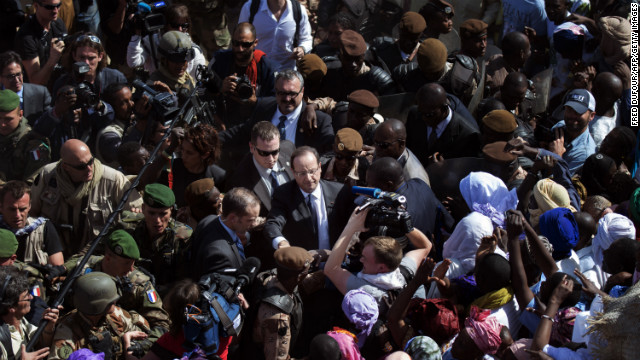 Malians welcome France's President Francois Hollande as he arrives in Timbuktu on Saturday, February 2. French-led troops are working to secure the area against Islamist militants.
STORY HIGHLIGHTS
Peter Bergen: U.K. politicians called North Africa terror an existential threat
Bergen says core al Qaeda has been greatly weakened, hasn't mounted serious operations
Terror groups loosely affiliated with al Qaeda have also lost ground, he says
Bergen: Jihadist violence does continue, but it does no good to overstate threat
Editor's note: Peter Bergen is CNN's national security analyst, the author of "Manhunt: The Ten-Year Search for bin Laden -- From 9/11 to Abbottabad", and a director at the New America Foundation.
Washington (CNN)
-- The attack in January on a gas facility in Algeria by an al Qaeda-linked group that resulted in at least 37 dead hostages has sparked an outpouring of dire warnings from leading Western politicians. British Prime Minister David Cameron described a "large and existential threat" emanating from North Africa. Tony Blair, his predecessor as prime minister, agreed saying, "David Cameron is right to warn that this is a battle for our values and way of life which will take years, even decades." Hang on chaps! Before we all get our knickers in a tremendous twist: How exactly does an attack on an undefended gas facility in the remotest depths of the Algerian desert become an "existential threat" to our "way of life"? Across the Atlantic, American politicians also got into sky-is-falling mode. Republican Congressman Mike Rogers, who heads the House Intelligence Committee, fulminated, "This is going to get worse. You cannot allow this to become a national security issue for the United States. And I argue it's already crossed that threshold." Previous real U.S. national security threats and their manifestations include 9/11, the doctrine of mutually assured destruction (from the potential use of nuclear weapons) with the Soviets, Pearl Harbor and Hitler's armies taking over much of Europe. A ragtag group of jihadists roaming the North African deserts is orders of magnitude less significant than those genuine threats to the West and is more comparable to the threats posed by the bands of pirates who continue to harass shipping off the coast of Somalia. They are surely a problem, but a localized and containable one. Western politicians and commentators who claim that the al Qaeda linked groups in North Africa are a serious threat to the West unnecessarily alarm their publics and also feed the self-image of these terrorists who aspire to attack the West, but don't have the capacity to do so. Terrorism doesn't work if folks aren't terrorized.
North African group hasn't attacked in the West
Western politicians and commentators who claim that the al Qaeda linked groups in North Africa are a serious threat to the West unnecessarily alarm their publics... Peter Bergen
Much has been written, for instance, in recent weeks about al Qaeda in the Islamic Maghreb (AQIM), al Qaeda's North African affiliate, a splinter group of which carried out the attack on the Algerian gas facility. But according to Camille Tawil, who has authoritatively covered Islamist militant groups over the past two decades for the leading Arabic daily Al-Hayat and has written three books about al Qaeda, AQIM doesn't threaten the West: "To my knowledge no known attacks or aborted attacks in the West have been linked directly to AQIM." AQIM was formed seven years ago so the group has had more than enough time to plot and carry out an attack in the West. By way of comparison, it took two years of serious plotting for al Qaeda to plan the 9/11 attacks. So, what is the real level of threat now posed by al Qaeda and allied groups? Let's start with "core al Qaeda" which attacked the United States on 9/11 and that is headquartered in Pakistan. This group hasn't, of course, been able to pull off an attack in the United States in twelve years. Nor has it been able to mount an attack anywhere in the West since the attacks on London's transportation system eight years ago.
Core al Qaeda on way to extinction
Osama bin Laden, the group's founder and charismatic leader, was buried at sea a year and half ago and despite concerns that his "martyrdom" would provoke a rash of attacks in the West or against Western interests in the Muslim world there has instead been.... nothing. Meanwhile, CIA drone strikes in Pakistan during President Obama's tenure alone have killed 38 of al Qaeda's leaders in Pakistan, according to a count by the New America Foundation. Those drone strikes were so effective that shortly before bin Laden died he was contemplating ordering what remained of al Qaeda to move to Kunar Province in the remote, heavily forested mountains of eastern Afghanistan, according to documents that were discovered following the SEAL assault on the compound where bin Laden was hiding in Abbottabad, Pakistan. Core al Qaeda is going the way of the dodo.
Affiliates are no better off
And a number of the affiliates of core al Qaeda are in just as bad shape as the mother ship. Jemaah Islamiah (JI), the virulent Southeast Asian al Qaeda affiliate that killed hundreds in the years after 9/11 is largely out of business. Why so? JI killed mostly Westerners in its first attacks on the tourist island of Bali in 2002, but the subsequent Bali attack three years later killed mostly Indonesians. So too did JI's attacks on the Marriott hotel in the capital Jakarta in 2003 and the Australian embassy in 2004. As a result, JI lost any shred of popular support it had once enjoyed. At the same time the Indonesian government, which at one point had denied that JI even existed, mounted a sophisticated campaign to dismantle the group, capturing many of its leaders and putting them on trial. In the Philippines, the Abu Sayyaf Group, a number of whose leaders had trained in Afghanistan in al Qaeda's camps, and which specialized in kidnapping Westerners in the years after 9/11, was effectively dismantled by the Philippine army working in tandem with a small contingent of U.S. Special Operations Forces. In Pakistan, the Pakistani Taliban in 2009 took over the once-tranquil mountainous vacation destination of Swat, and destroyed some 180 schools and beheaded 70 policemen there. Suddenly, they were only 70 miles from the capital Islamabad and some warned that the Pakistani state was in danger. Today, the Pakistani Taliban have been rolled back to their bases along the Afghan border and 16 of their leaders have been killed by CIA drones since President Obama took office. Al Qaeda militants based in Saudi Arabia mounted a terrorist campaign beginning in 2003 that killed dozens of Saudis, and they also attacked a number of the oil workers and oil facilities that lie at the heart of the Saudi economy. This prompted the Saudi government to mount such an effective crackdown that the few remaining al Qaeda leaders who were not killed or captured have in recent years fled south to Yemen where the remnants of al Qaeda in the Arabian Peninsula (AQAP) are now based. From its new headquarters in Yemen AQAP has made serious efforts to attack the United States, sending the "underwear bomber" to blow up Northwest Flight 253 over Detroit on Christmas Day 2009 and also smuggling bombs on to U.S.-bound cargo shipments in October 2010. None of these attempts were successful.
Yemen militants decimated
As a result of the threat posed by AQAP, the United States has mounted a devastating campaign against the group over the past three years. There was one American drone strike in Yemen in 2009. In 2012 there were 46. That drone campaign has killed 28 prominent members of the group, according to a count by the New America Foundation. Among them was the No. 2 in AQAP, Said al-Shihri, who was confirmed to be dead last week. In the chaos of the multiple civil wars that gripped Yemen in 2011, AQAP seized a number of towns in southern Yemen. But AQAP has now been pushed out of those towns because of effective joint operations between U.S. Special Operations Forces, the CIA and the Yemeni government. The Yemeni president, Abd Rabbuh Mansur Hadi, even went to the United Nations General Assembly in September where he publicly endorsed the use of CIA drones in his country, something of a first. A couple of years ago, al Qaeda's Somali affiliate, Al- Shabaab ("the youth" in Arabic) controlled much of southern Somalia including key cities such as the capital Mogadishu. Once in a position of power, Shaabab inflicted Taliban-like rule on a reluctant Somali population, which eroded its popular legitimacy. Shabaab was also the target of effective military operations by the military of neighboring Kenya, troops of the African Union and U.S. Special Operation Forces. As a result, today the group controls only some rural areas and for the first time in two decades the United States has formally recognized a Somali government.
Mali conflict shows weakness of jihadist militant groups
Similarly, groups with an al Qaeda-like agenda captured most of northern Mali last year, a vast desert region the size of France. Once in power they imposed Taliban-like strictures on the population, banning smoking and music and enforcing their interpretation of Sharia law with the amputation of hands. The militants also destroyed tombs in the ancient city of Timbuktu, a UNESCO World Heritage site, on the grounds that the tombs promoted "idol worship." None of these measures endeared the jihadist militants to the population of Mali. In the past weeks, as a relatively small force of some 2,000 French soldiers has rolled through Mali putting the militants on the run, the French have been cheered on by dancing and singing Malians. When French soldiers are greeted as an army of liberation in an area of the world that in the past century was part of a vast French empire, you can get a sense of how much the jihadist militants had alienated the locals. Last week the French military took the city of Timbuktu. The defeat of the al Qaeda-linked groups as effective insurgent forces in Mali is now almost complete. What has just happened in Mali gets to the central problem that jihadist militant groups invariably have. Wherever they begin to control territory and population they create self-styled Islamic "emirates" where they then rule like the Taliban. Over time this doesn't go down too well with the locals, who usually practice a far less austere version of Islam, and they eventually rise up against the militants, or, if they are too weak to do so themselves, they will cheer on an outside intervention to turf out the militants. The classical example of this happened in Iraq where al Qaeda in Iraq (AQI) controlled Anbar Province, about a third of the country in 2006. AQI cadres ruled with an iron fist and imposed their ultrafundamentalist rule on their fellow Sunnis, who they killed if they felt they were deviating from their supposedly purist Islamic precepts. This provoked the "Sunni Awakening" of Iraqi tribes that rose up against AQI. These tribes then allied with the U.S. military and by the end of 2007 AQI went from an insurgent group that controlled vast territories to a terrorist group that controlled little but was still able to pull off occasional spectacular terrorist attacks in Baghdad.
Jihadist violence still a threat
The collapse of core al Qaeda and a number of its key affiliates does not, of course, mean that jihadist violence is over. Such religiously motivated mayhem has been a feature of the Muslim world for many centuries. Recall the Assassins, a Shia sect that from its base in what is now Iran dispatched cutthroats armed with daggers to kill its enemies around the Middle East during the 12th and 13th centuries. In so doing the sect gave the world the useful noun "assassin." And so while core al Qaeda and several of its affiliates and like-minded groups are in terrible shape, there are certainly groups with links to al Qaeda or animated by its ideology that are today enjoying something of a resurgence. Most of these groups do not call themselves al Qaeda, which is a smart tactic, as even bin Laden himself was advising his Somali affiliate, Al Shabaab, not to use the al Qaeda name as it would turn off fundraisers because the shine had long gone off the al Qaeda brand, according to documents recovered at bin Laden's Abbottabad compound. One such militant group is the Nigerian Boko Haram, which bombed the United Nations headquarters in Nigeria in 2011 and has also attacked a wide range of Christian targets in the country. However, the group has shown "no capability to attack the West and also has no known members outside of West Africa," according to Virginia Comolli of the London-based International Institute for Strategic Studies who tracks the group.
Become a fan of CNNOpinion
Stay up to date on the latest opinion, analysis and conversations through social media. Join us at
Facebook/CNNOpinion
and follow us
@CNNOpinion on Twitter
. We welcome your ideas and comments. Ansar al-Sharia, "Supporters of Sharia," is the name taken by the militant group in Libya that carried out the attack against the U.S. consulate in Benghazi in September in which four Americans were killed. Similarly, in Yemen militants that are aligned with al Qaeda have labeled themselves Ansar al-Sharia. But this new branding hasn't done the militants much good in either country. In Libya, shortly after the attack on the U.S. consulate, an enraged mob stormed and took over Ansar al Sharia's headquarters in Benghazi. And, as we have seen, in Yemen the jihadists have now been forced out of the towns in the south that they had once held.
One strong foothold in Syria
The one country where jihadist militants have a serious foothold and are likely to play an important role for some period in the future is in Syria. That is because of a perfect storm there that favors them. The Sunni militants in Syria are fighting the regime of Bashir al Assad, a secular dictator who is also an Alawite, which many Muslims believe to be a heretical branch of Shiism. For the jihadists, Assad's secularism makes him an apostate and his Alawi roots also make him a heretic, while his brutal tactics make him an international pariah. This trifecta makes funding the Sunni insurgency highly attractive for donors in the Gulf. And for the Arabs who form the heart of al Qaeda the fight against Assad is in the heart of the Arab world, a contest that happens to border also on the hated state of Israel. Also Syria was for much of the past decade the entry point for many hundreds of foreign fighters who poured into Iraq to join Al Qaeda in Iraq following the American invasion of the country. As a result, al Qaeda has long had an infrastructure both in Syria and, of course, in neighboring Iraq. The Al Nusra Front is the name of arguably the most effective fighting force in Syria. In December the State Department publicly said that Al Nusra, which is estimated to number in the low thousands and about 10% of the fighters arrayed against Assad, was a front for Al Qaeda in Iraq (AQI). Al Nusra certainly seems to have learned from AQI's mistakes. For starters, it doesn't call itself al Qaeda. Secondly, it hasn't launched a campaign to crack down on social issues such as smoking or listening to music and so has not alienated the local Sunni population as AQI did in Iraq. Barak Barfi, a journalist and fellow at the New America Foundation who has spent several months on the ground in Aleppo in northwestern Syria reporting on the opposition to Assad, says Nusra fighters stand out for their bravery and discipline: "They are winning over the hearts and minds of Aleppo residents who see them as straight shooters. There is a regimented recruiting process that weeds out the chaff. Their bases are highly organized with each person given specific responsibilities."
Arab Spring countries seen as an opportunity
The chaotic conditions of several of the countries of the "Arab Spring" are certainly something al Qaeda views as an opportunity. Ayman al-Zawahiri the leader of the group, has issued 27 audio and video statements since the death of bin Laden, 10 of which have focused on the Arab countries that have experienced the revolutions of the past two years. But if history is a guide, the jihadist militants, whether in Syria or elsewhere, are likely to repeat the mistakes and failures that their fellow militants have experienced during the past decade in countries as disparate as Somalia, the Philippines, Yemen, Iraq, Indonesia, Saudi Arabia and now, Mali. That's because encoded in the DNA of al Qaeda and like-minded groups are the seeds of their own destruction because in power they rule like the Taliban, and they also attack fellow Muslims who don't follow their dictates to the letter. This doesn't mesh very well with these organizations' claims that they are the defenders of Muslims. These groups also have no real plans for the multiple political and economic problems that beset much of the Islamic world. And they won't engage in normal politics such as elections believing them to be "un-Islamic." This is invariably a recipe for irrelevance or defeat. In not one nation in the Muslim world since 9/11 has a jihadist militant group seized control of a country. And al Qaeda and its allies' record of effective attacks in the West has been non-existent since 2005. With threats like these we can all sleep soundly at night.